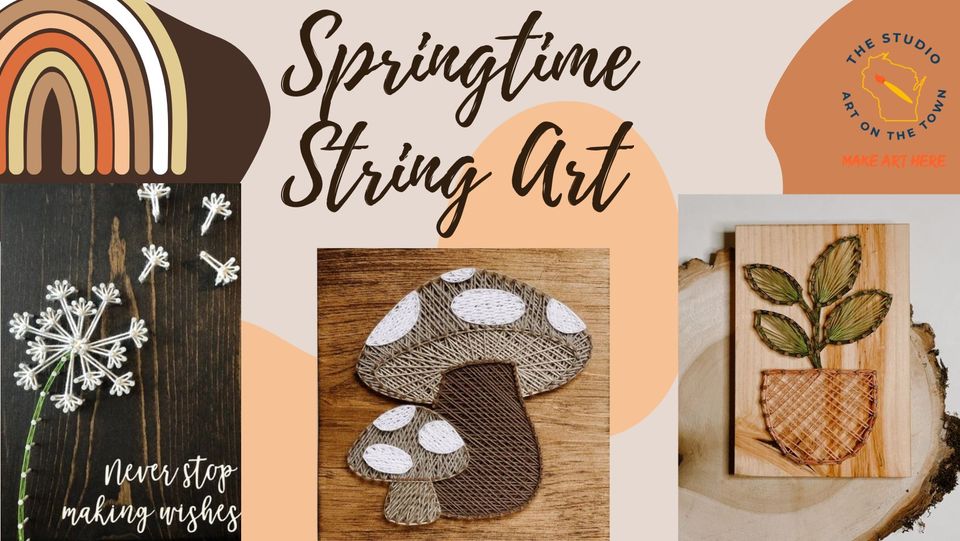 Let's make some string art! Multiple stencils to choose from.
Cost is $30.00 and includes all materials and instruction.
Class time takes about an hour depending on design, more complicated designs will take up to 3 hours.
Walk-ins Welcome!
We're sorry, but all tickets sales have ended because the event is expired.
April 2, 2023




2:00 pm - 4:00 pm

April 4, 2023




12:00 pm - 2:00 pm

April 4, 2023




3:00 pm - 5:00 pm

April 5, 2023




12:00 pm - 2:00 pm

April 5, 2023




3:00 pm - 5:00 pm

April 11, 2023




12:00 pm - 2:00 pm

April 11, 2023




3:00 pm - 5:00 pm

April 12, 2023




12:00 pm - 2:00 pm

April 12, 2023




3:00 pm - 5:00 pm

April 13, 2023




12:00 pm - 2:00 pm

April 13, 2023




3:00 pm - 5:00 pm

April 14, 2023




12:00 pm - 2:00 pm

April 14, 2023




3:00 pm - 5:00 pm

April 16, 2023




2:00 pm - 4:00 pm

April 18, 2023




12:00 pm - 2:00 pm

April 18, 2023




3:00 pm - 5:00 pm

April 19, 2023




12:00 pm - 2:00 pm

April 19, 2023




3:00 pm - 5:00 pm

April 20, 2023




12:00 pm - 2:00 pm

April 20, 2023




3:00 pm - 5:00 pm

April 21, 2023




12:00 pm - 2:00 pm

April 21, 2023




3:00 pm - 5:00 pm

April 23, 2023




2:00 pm - 4:00 pm

April 25, 2023




12:00 pm - 2:00 pm

April 25, 2023




3:00 pm - 5:00 pm

April 26, 2023




12:00 pm - 2:00 pm

April 26, 2023




3:00 pm - 5:00 pm

April 27, 2023




12:00 pm - 2:00 pm

April 27, 2023




3:00 pm - 5:00 pm

April 28, 2023




12:00 pm - 2:00 pm

April 28, 2023




3:00 pm - 5:00 pm

April 30, 2023




2:00 pm - 4:00 pm