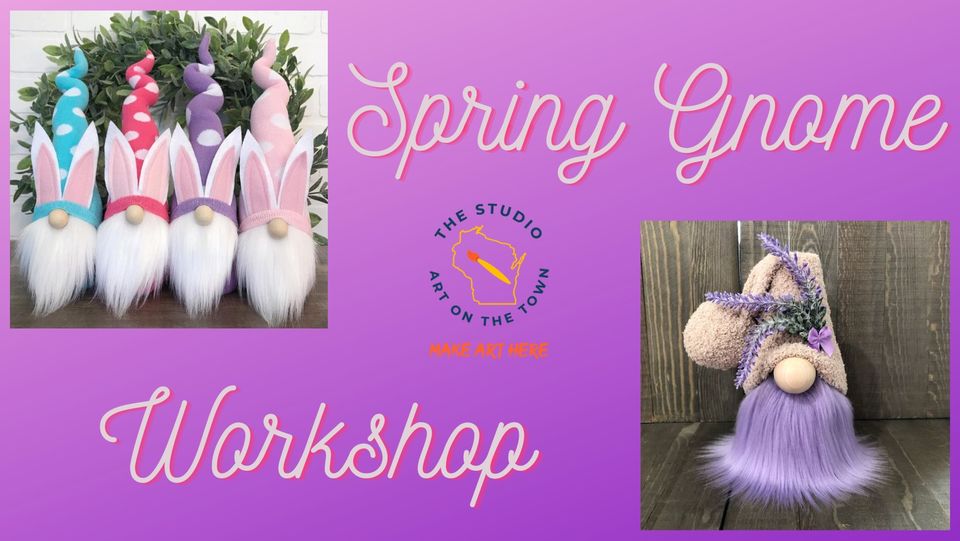 Create an adorable bunny gnome or dive right into springtime options!
Price is $25 and includes all art materials and instruction.  The ticket will be valid all day of purchase.
Gnomes take about 45 minutes to create. Walk-in's welcome! Gnomemaking is always available during open hours.
We're sorry, but all tickets sales have ended because the event is expired.
April 1, 2023




10:00 am - 4:00 pm

April 2, 2023




1:00 pm - 4:00 pm

April 4, 2023




12:00 pm - 6:00 pm

April 5, 2023




12:00 pm - 6:00 pm

April 6, 2023




12:00 pm - 8:00 pm

April 7, 2023




12:00 pm - 8:00 pm

April 8, 2023




10:00 am - 4:00 pm

April 9, 2023




1:00 pm - 4:00 pm

April 11, 2023




12:00 pm - 6:00 pm

April 12, 2023




12:00 pm - 6:00 pm

April 13, 2023




12:00 pm - 8:00 pm

April 14, 2023




12:00 pm - 8:00 pm

April 15, 2023




10:00 am - 4:00 pm

April 16, 2023




1:00 pm - 4:00 pm

April 18, 2023




12:00 pm - 6:00 pm

April 19, 2023




12:00 pm - 6:00 pm

April 20, 2023




12:00 pm - 8:00 pm

April 21, 2023




12:00 pm - 8:00 pm

April 22, 2023




10:00 am - 4:00 pm

April 23, 2023




1:00 pm - 4:00 pm

April 25, 2023




12:00 pm - 6:00 pm

April 26, 2023




12:00 pm - 6:00 pm

April 27, 2023




12:00 pm - 8:00 pm

April 28, 2023




12:00 pm - 8:00 pm

April 29, 2023




10:00 am - 4:00 pm

April 30, 2023




1:00 pm - 4:00 pm