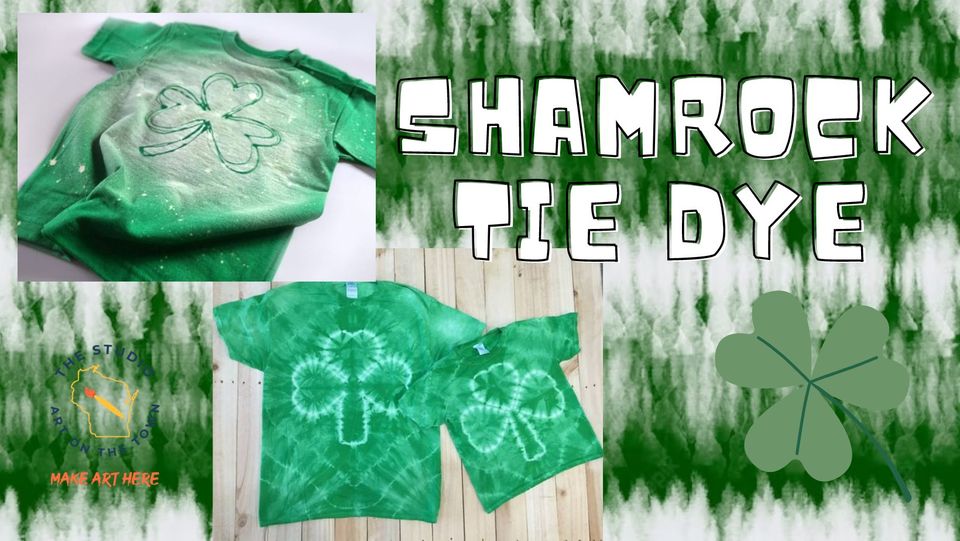 Stop in any time during our open hours for this workshop!
White t-shirts and green t-shirts are available to tie dye and reverse tie dye. Purchase a ticket below (your ticket will be valid all day), or stop in!
Prices vary depending on size: starting at $12, $15, and $17.
We're sorry, but all tickets sales have ended because the event is expired.
March 1, 2023




12:00 pm - 6:00 pm

March 2, 2023




12:00 pm - 8:00 pm

March 3, 2023




12:00 pm - 8:00 pm

March 4, 2023




10:00 am - 4:00 pm

March 5, 2023




1:00 pm - 4:00 pm

March 7, 2023




12:00 pm - 6:00 pm

March 8, 2023




12:00 pm - 6:00 pm

March 9, 2023




12:00 pm - 8:00 pm

March 10, 2023




12:00 pm - 8:00 pm

March 11, 2023




10:00 am - 4:00 pm

March 12, 2023




1:00 pm - 4:00 pm

March 14, 2023




12:00 pm - 6:00 pm

March 15, 2023




12:00 pm - 6:00 pm

March 16, 2023




12:00 pm - 8:00 pm

March 17, 2023




12:00 pm - 8:00 pm

March 18, 2023




10:00 am - 4:00 pm

March 19, 2023




1:00 pm - 4:00 pm