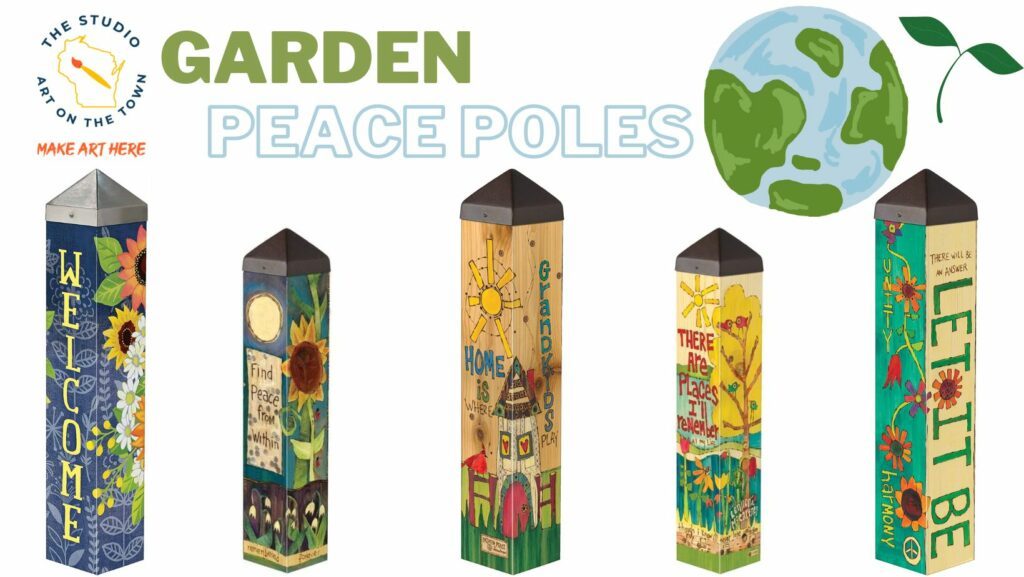 Want to beautify your garden or yard? Come paint a peace pole to celebrate everything positive.
Poles range in sizes. Prices range from $35-$55. All poles have caps unless you decide to purchase a birdhouse for the top instead. Birdhouses are $25 in addition to the peace pole. All prices include paint supplies and instruction, and the pole and cap.
We're sorry, but all tickets sales have ended because the event is expired.
May 5, 2023




1:00 pm - 4:00 pm

May 5, 2023




5:00 pm - 8:00 pm

May 6, 2023




10:00 am - 1:00 pm

May 6, 2023




1:00 pm - 4:00 pm

May 7, 2023




1:00 pm - 4:00 pm

May 12, 2023




1:00 pm - 4:00 pm

May 12, 2023




5:00 pm - 8:00 pm

May 13, 2023




10:00 am - 1:00 pm

May 13, 2023




1:00 pm - 4:00 pm

May 14, 2023




1:00 pm - 4:00 pm

May 19, 2023




1:00 pm - 4:00 pm

May 19, 2023




5:00 pm - 8:00 pm

May 20, 2023




10:00 am - 1:00 pm

May 20, 2023




1:00 pm - 4:00 pm

May 21, 2023




1:00 pm - 4:00 pm

May 26, 2023




1:00 pm - 4:00 pm

May 26, 2023




5:00 pm - 8:00 pm

May 27, 2023




10:00 am - 1:00 pm

May 27, 2023




1:00 pm - 4:00 pm

May 28, 2023




1:00 pm - 4:00 pm