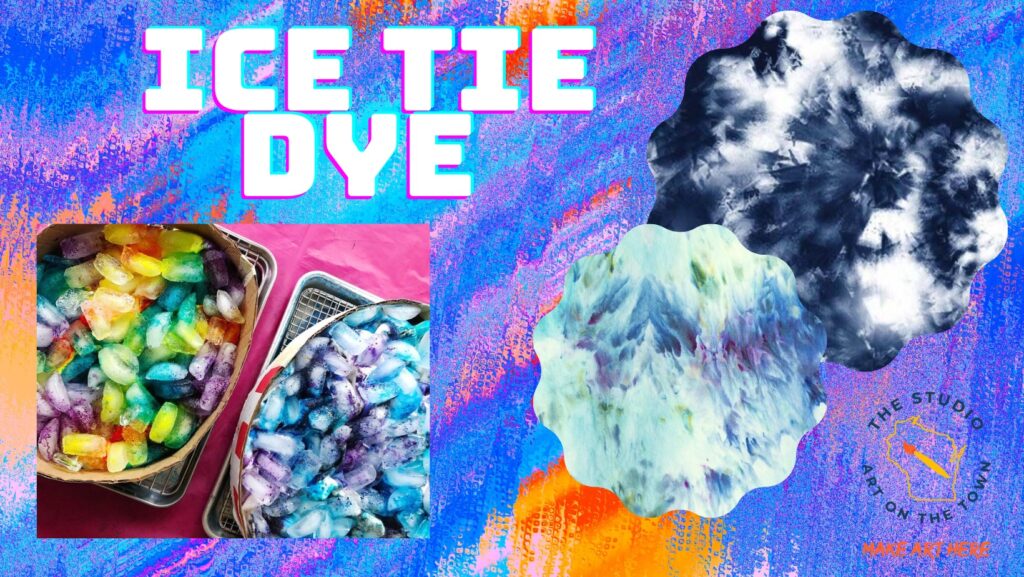 Ice dye is the art of placing ice cubes on top of fabric, then sprinkling dye powder on top of the ice, letting the melting process dictate how the dye splits and bleeds, and where it ultimately lands on the fabric–leading to surprising and delightful results every time!
A fun and exciting technique to create tie dye effects. A perfect way to spend your time on a warm sunny day!
Price is $12, $15, and $17 depending on size. Instruction and material included. Walk-ins welcome!
Call or email with questions: 920-219-9841. thestudioaottwi@gmail.com.
We're sorry, but all tickets sales have ended because the event is expired.
May 5, 2023




12:00 pm - 8:00 pm

May 6, 2023




10:00 am - 4:00 pm

May 7, 2023




1:00 pm - 4:00 pm

May 12, 2023




12:00 pm - 3:00 pm

May 13, 2023




10:00 am - 4:00 pm

May 14, 2023




1:00 pm - 4:00 pm

May 19, 2023




12:00 pm - 8:00 pm

May 20, 2023




10:00 am - 4:00 pm

May 21, 2023




1:00 pm - 4:00 pm

May 26, 2023




12:00 pm - 8:00 pm

May 27, 2023




10:00 am - 4:00 pm

May 28, 2023




1:00 pm - 4:00 pm