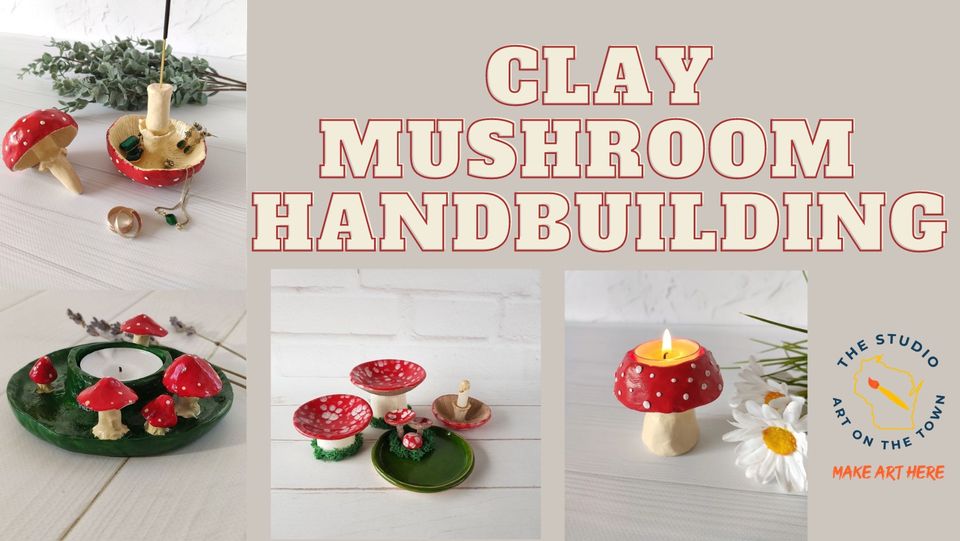 Dip your feet into some easy and fun clay building! This class includes 1 pound air dry clay, acrylic paint , one stick incense and candle votive.
Build mushrooms of all shapes, and sizes. Let the creativity flow, and get your hands dirty! All ages are welcome.
Cost is $20 and includes all materials and instruction. Walk-ins welcome!
We're sorry, but all tickets sales have ended because the event is expired.
March 2, 2023




1:00 pm - 3:00 pm

March 2, 2023




4:00 pm - 6:00 pm

March 2, 2023




6:00 pm - 8:00 pm

March 3, 2023




1:00 pm - 3:00 pm

March 3, 2023




4:00 pm - 6:00 pm

March 3, 2023




6:00 pm - 8:00 pm

March 4, 2023




10:00 am - 12:00 pm

March 4, 2023




1:00 pm - 3:00 pm

March 5, 2023




1:00 pm - 3:00 pm

March 9, 2023




1:00 pm - 3:00 pm

March 9, 2023




4:00 pm - 6:00 pm

March 9, 2023




6:00 pm - 8:00 pm

March 10, 2023




1:00 pm - 3:00 pm

March 10, 2023




4:00 pm - 6:00 pm

March 10, 2023




6:00 pm - 8:00 pm

March 11, 2023




10:00 am - 12:00 pm

March 11, 2023




1:00 pm - 3:00 pm

March 12, 2023




1:00 pm - 3:00 pm

March 16, 2023




1:00 pm - 3:00 pm

March 16, 2023




4:00 pm - 6:00 pm

March 16, 2023




6:00 pm - 8:00 pm

March 17, 2023




1:00 pm - 3:00 pm

March 17, 2023




4:00 pm - 6:00 pm

March 17, 2023




6:00 pm - 8:00 pm

March 18, 2023




10:00 am - 12:00 pm

March 18, 2023




1:00 pm - 3:00 pm

March 19, 2023




1:00 pm - 3:00 pm

March 23, 2023




1:00 pm - 3:00 pm

March 23, 2023




4:00 pm - 6:00 pm

March 23, 2023




6:00 pm - 8:00 pm

March 24, 2023




1:00 pm - 3:00 pm

March 24, 2023




4:00 pm - 6:00 pm

March 24, 2023




6:00 pm - 8:00 pm

March 25, 2023




10:00 am - 12:00 pm

March 25, 2023




1:00 pm - 3:00 pm

March 26, 2023




1:00 pm - 3:00 pm

March 30, 2023




1:00 pm - 3:00 pm

March 30, 2023




4:00 pm - 6:00 pm

March 30, 2023




6:00 pm - 8:00 pm

March 31, 2023




1:00 pm - 3:00 pm

March 31, 2023




4:00 pm - 6:00 pm

March 31, 2023




6:00 pm - 8:00 pm