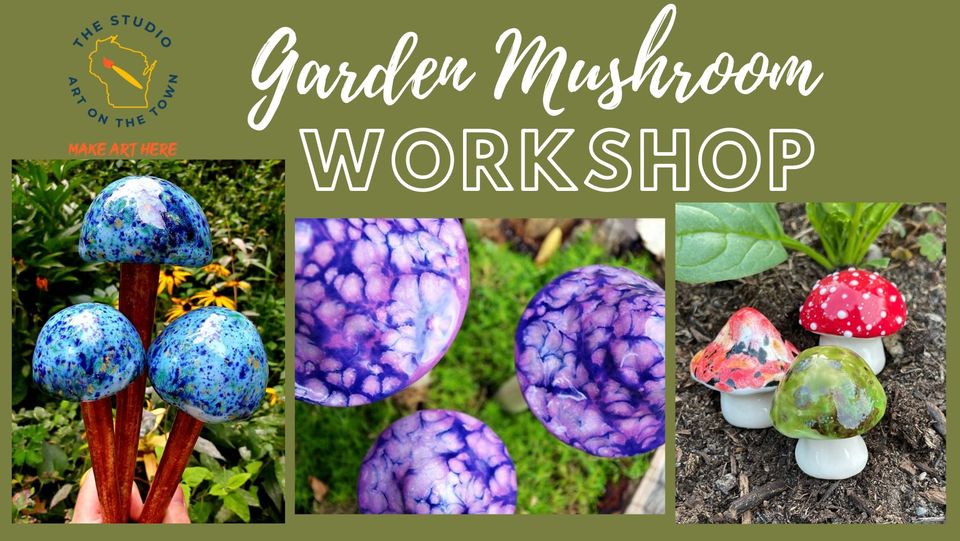 Build your own Garden Mushroom out of clay!
Traditional handbuilding such as pinch, coil, and slab will be used to create these mushrooms.
Price is $35 for 3 mushrooms at 1.5lbs of clay, and you return at a later date to glaze your mushrooms for $7 per piece.
Take as long as you'd like building your mushrooms, relax, and create!
We're sorry, but all tickets sales have ended because the event is expired.
April 1, 2023




10:00 am - 12:00 pm

April 1, 2023




1:00 pm - 3:00 pm

April 2, 2023




1:00 pm - 3:00 pm

April 7, 2023




2:00 pm - 4:00 pm

April 7, 2023




4:00 pm - 6:00 pm

April 7, 2023




6:00 pm - 8:00 pm

April 8, 2023




10:00 am - 12:00 pm

April 8, 2023




1:00 pm - 3:00 pm

April 9, 2023




1:00 pm - 3:00 pm

April 14, 2023




2:00 pm - 4:00 pm

April 14, 2023




4:00 pm - 6:00 pm

April 14, 2023




6:00 pm - 8:00 pm

April 15, 2023




10:00 am - 12:00 pm

April 15, 2023




1:00 pm - 3:00 pm

April 16, 2023




1:00 pm - 3:00 pm

April 21, 2023




2:00 pm - 4:00 pm

April 21, 2023




4:00 pm - 6:00 pm

April 21, 2023




6:00 pm - 8:00 pm

April 22, 2023




10:00 am - 12:00 pm

April 22, 2023




1:00 pm - 3:00 pm

April 23, 2023




1:00 pm - 3:00 pm

April 28, 2023




2:00 pm - 4:00 pm

April 28, 2023




4:00 pm - 6:00 pm

April 28, 2023




6:00 pm - 8:00 pm

April 29, 2023




10:00 am - 12:00 pm

April 29, 2023




1:00 pm - 3:00 pm

April 30, 2023




1:00 pm - 3:00 pm